Raised on a Te Kauwhata farm, presenter Erin Simpson studied musical theatre at the National Academy of Singing and Dramatic Art in Christchurch, and was the mascot for the Crusaders rugby team. Her television debut was as comedic partner to Tamati Coffey in skits for What Now?. Simpson won fame with a generation of Kiwi kids hosting 770 episodes of TV2 afternoon staple The Erin Simpson Show; she did everything from acting in a mini-soap to interviewing stars. In 2018 Simpson began presenting events show Red Carpet New Zealand. She has also produced her own homewares range.
I've learned that stamina, kindness, curiosity and a willingness to look stupid are important for TV. Erin Simpson in The Australian Women's Weekly, 11 December 2013 Red Carpet New Zealand Cooking 4 Change Word Up! Kiwi Living Operation Hero The Erin Simpson Show Sticky TV Christmas in the Park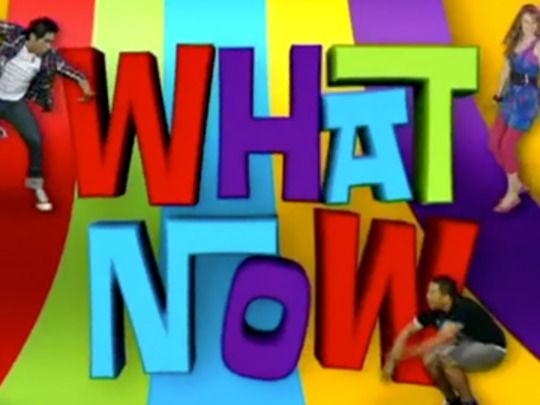 What Now?
What Now? is a long-running entertainment show for primary school-aged children. Filmed before a live studio audience on weekend mornings, What Now? is a New Zealand TV institution; it was the first TV show to have live phone-ins. The series is known for its challenges that sometimes result in participants being 'gunged'. A roll-call of presenters includes Steve Parr, Danny Watson, Simon Barnett, Jason Gunn, Michelle A'Court, Tamati Coffey, Antonia Prebble, and more. 'Get out of your Lazy Bed' by Matt Bianco is the theme song memorable to generations of Kiwi kids.