Made for roughly $60,000, the debut feature from Cristobel Araus Lobos was award-winner The Waiting Place, a tale of two escaped convicts trapped in an abandoned psychiatric hospital. Inbetween a prolific diet of short films, many made for the 48 Hour film contest, the Chilean-New Zealander has since made culture shock comedy Curry Munchers in Auckland and New Delhi, and hardboiled, Southern-set thriller Netherwood.
The Festival was inundated with New Zealand digital features this year ... This grim tale from the fabled dark heartland of the New Zealand psyche was not at all typical. It reveals an exciting, authentically cinematic imagination at work, extending what, for better or worse, is a solid local tradition. Bill Gosden on The Waiting Place, 2001 NZ International Film Festival The Adventures of Suzy Boon Spoils of War: Battle of Monte Cassino Caretaker Glow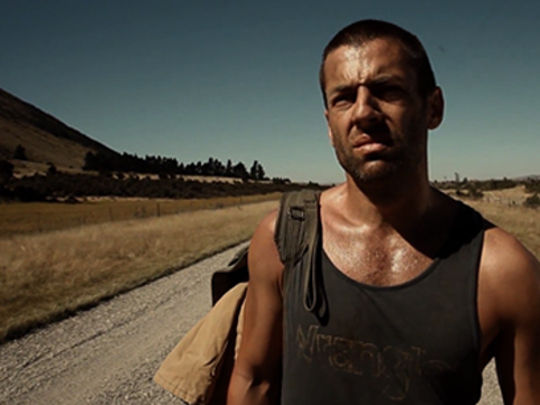 Netherwood
Shot in modern-day North Canterbury, Netherwood is the kind of back country thriller in which few of the locals can be trusted. Black-hatted drifter Stanley Harris (one time Shortland Street surgeon Owen Black) arrives in a small South Island town, and finds himself facing off against the local bully (Will Hall), the local beauty (Miriama Smith) and the local land baron (Peter McCauley). The behind the scenes documentary follows Hall and Black on a 20-stop 'Rural Roadshow', as they tour the finished low budget feature around the country. Curry Munchers Hugh and Heke (feature) The Warning Discount Taxi Driver The Comedy Pilots 1nite The Waiting Place The Uncertainty of