Philadelphia-born, but long calling Aotearoa her home base, Robin Greenberg has directed films about Māori weaving, the Tibetan Government in exile, and educational videos for the United Nations — plus three documentaries inspired by her Christchurch t'ai chi teacher, Huloo. All three won a place in the NZ International Film Festival; the last, 2015's Return of the Free China Junk, continues the story of an old sailing junk which Huloo and friends sailed from Taiwan to the US. Inspired by Aotearoa's first Tibetan emigre, Greenberg's film Team Tibet - Home Away from Home was invited to the NZ Film Festival in 2017.  
…there's a close connection that you develop with the people the film's about, and I don't feel like an outsider. I feel like if I'm doing my job like I want to, then I'm actually putting myself into the shoes of my characters and enabling them to be filmmakers. Robin Greenberg in an interview for website The Lumiere Reader, 17 July 2010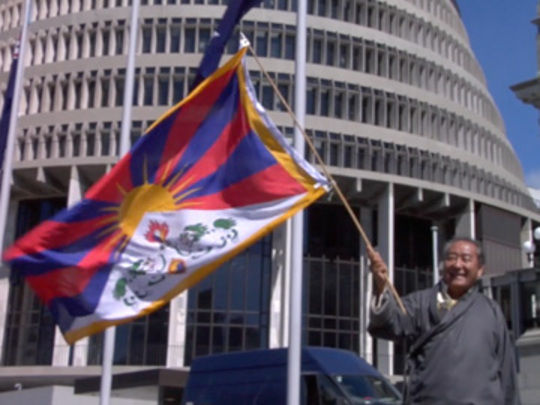 Team Tibet - Home Away from Home
Team Tibet tells the story of Thuten Kesang, who came to New Zealand in 1967, exiled from his Tibetan homeland, his family and his culture. Kesang was Aotearoa's first Tibetan refugee. Filmed over 22 years by globetrotting filmmaker Robin Greenberg (Return of the Free China Junk), Kesang recounts his story, from his parents' arrest in the wake of the 1959 uprising, to his advocacy for Tibetan environmental and political issues. He has become a point of contact for the global Tibetan community. The documentary was set to premiere at the 2017 NZ International Film Festival. Return of the Free China Junk Hip-Hop and Homos New Zealand Stories - Manny & the Singh Brothers The Free China Junk Huloo He Waka Hono Tangata - A Canoe that Unites the People Tu Tangata - Weaving for the People Chenrezig Sand Mandala: the Living Art of Tibet Restoring Avoca Valley Stream Crossing the Two-Dimensional Barrier High Fashion Anima Mundi