It wasn't just Alan Sharp's movies that travelled. The straight-talking scriptwriter was raised in Scotland, sold much of his work to Hollywood, and from 1983 until his death in February 2013, wrote many scripts from his "turangawaewae", a summer house on Kawau Island. His work included Rob Roy, Burt Lancaster classic Ulzana's Raid, Night Moves and the award-winning Dean Spanley, directed by Kiwi Toa Fraser.
(He) specialized in scripts that turned the tables on movie conventions. In the 1970s, his best-known narratives created and then disassembled audience expectations about all the usual Hollywood verities, especially the triumph of justice, love and friendship. Paul Vitello in a February 2013 New York Times obituary Valentino's Ghost Ben Hur (US miniseries)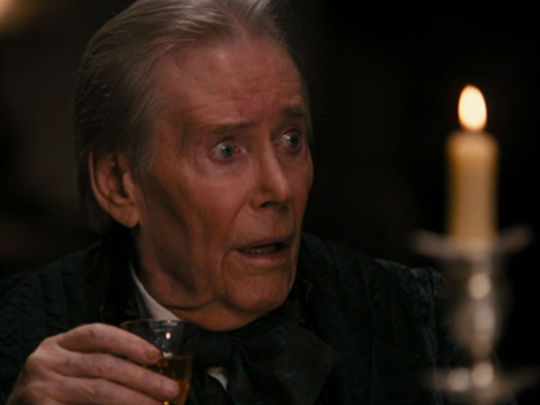 Dean Spanley
This offbeat father and son feature was written by Scotsman Alan Sharp, and mostly filmed in the UK by a Fijian-Brit Kiwi. Lawrence of Arabia legend Peter O'Toole plays a stiff upper lip Englishman whose frosty relationship with his son warms after hearing an extraordinary tale of reincarnation from Reverend Dean Spanley (Sam Neill). Based on an Edward Plunkett novella, Toa Fraser's second feature won praise for its cast, and mix of comedy and poignancy, "intertwined to the last" (The Age). Spanley won a host of Qantas awards; GQ rated it their film of the year. Nightmares & Dreamscapes Reversible Errors Lathe of Heaven Little Girl Fly Away Sam Peckinpah: Man of Iron Mission of the Shark Descending Angel The Edge (US tele-movie) Little Treasure The Osterman Weekend The Odd Man (documentary) Damnation Alley Night Moves Billy Two Hats Ulzana's Raid The Hired Hand The Last Run The Wednesday Play First Night